Battlefield 4 Naval Strike takes the dramatic water-based combat introduced in Battlefield 4 to four all-new maps set in the South China Sea. Take control over new weapons and gadgets, pilot the new hovercraft vehicle, and experience the Carrier Assault game mode in this intense expansion pack. Read on for details and the first official screenshots.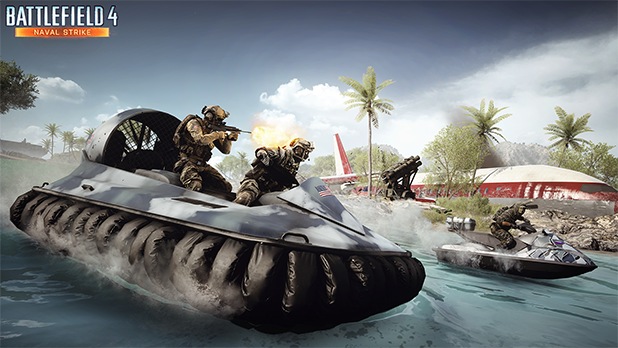 Take the Fight to the Sea
Water-based combat has always been a vital part of the all-out war of Battlefield 4, and with Battlefield 4 Naval Strike the fights at sea are more intense than ever. With the introduction of the amphibious hovercraft vehicle, your possibilities to dominate the sea will be even greater.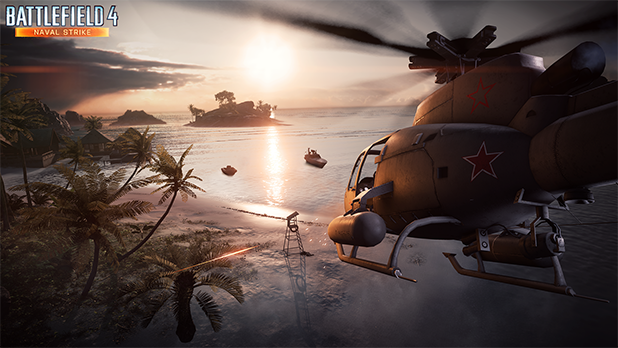 Four All-New Multiplayer Maps
Blow open a crashed passenger plane and capture fishing villages across the tropical Lost Islands. Drop a submarine on your foes as you infiltrate a naval base or rush between shipping docks and rocky islands on the massive Wave Breaker map. Wage war across stormy seas in the largest ocean stretch in a Battlefield map yet with Nansha Strike. Storm an abandoned cliff-side resort, or get lost in the breathtaking vistas in Operation Mortar.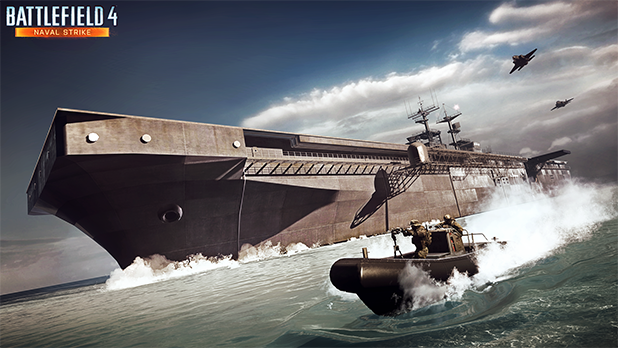 A Classic Game Mode Re-Imagined
Battlefield 4 Naval Strike lets you re-live the classic Titan Mode of Battlefield 2142, with the introduction of the Carrier Assault game mode. Stay tuned to the Battlefield Blog for more details on this re-imagining of a classic.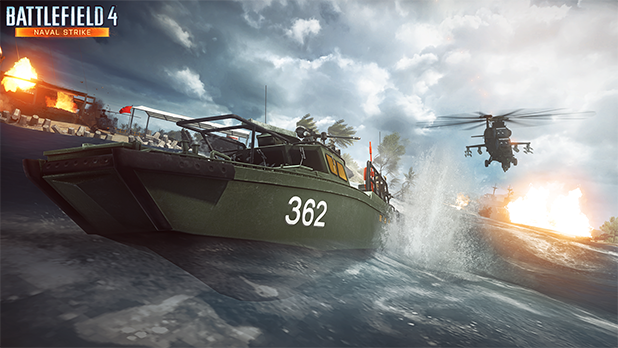 Battlefield 4 Naval Strike will be released late March for Battlefield 4 Premium members. To get a two-week head start with Battlefield 4 Naval Strike and other upcoming Battlefield 4 expansion packs, secure a Battlefield 4 Premium membership.
Battlefield 4 Platoons are Now Live
Fans of Battlefield 4 can now come together as one persistent unit and show the world where they belong. Rolling out starting February 27 as part of the Player Appreciation Month, the first iteration of Platoons is coming to Battlefield 4.
UPDATE:
Platoons are now available for all Battlelog users. You will find it in the Soldier dropdown menu, as well as on a new tile on Home. You can leave feedback for the new feature in the Battlelog forums.
Show the World Where You Belong
Platoons in Battlefield 4 is a way for you and your friends to get together, organize yourselves, communicate, and fight together to improve your Platoon. Whether you want to share experiences in a more private space, or show the world who has the most skilled, most awesome Battlefield 4 team around, Platoons is the way to go.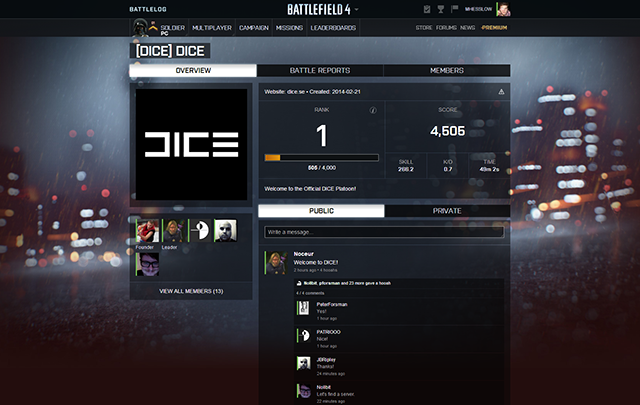 Platoons in a Nutshell
So what can you expect when Platoons launches during this and next week? Let's look at the main features you will have access to in the first iteration of Platoons:
• The ability to create and join a Platoon for up to 100 members.
• Basic Platoon management such as inviting, applying, and promoting/demoting members.
• A private and public Platoon feed, where you can communicate and coordinate.
• A Platoon emblem and tag that all members can easily apply.
• The ability to earn stats for your Platoon and rank it up, and see all the matches you played together.
Our goal is to make it both fun and easy for you to get organized and be part of the best Battlefield 4 Platoon ever created. Whether you want to discuss your past games and plan the next, or get competitive and see who your Platoon is up against, the feature will be as powerful and intuitive as possible.
Make Your Platoon Stand Out
There will be several different customization options for your Platoon. Apart from setting a Platoon name and 4-character tag, you will of course also be able to design your very own Platoon emblem, which all members can easily use as their own. If the emblem gets updated, for example, you don't need to worry; the changes will automatically be applied and your Platoon tag and emblem will without extra effort follow you in-game. Besides that, you can write a presentation text for your Platoon and set the address for your website, if your Platoon has one.
Earn Stats for your Platoon and Rank Up
Platoons for Battlefield 4 also feature a brand new progression and stats system. In order to earn stats, four players from the same active Platoon must play together in the same round of BF4, and then your core stats will be either averaged or accumulated and applied to the Platoon. Best of all, you will earn score for your Platoon, so you can rank it up (initially, ranks 1-10 will be available, with more ranks to come). Other stats such as Kill/Death Ratio, Score per Minute, and Skill will also be shown for your Platoon.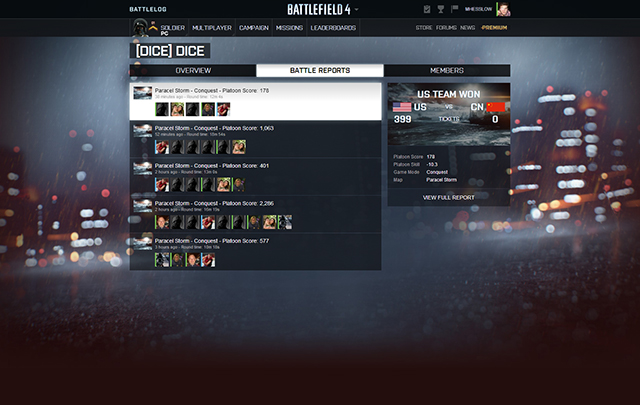 Discuss your Matches and Have Fun in the Feed
The core way to communicate within your Platoon is through the feed, which has both a public and a private section. In the public section, you can allow anyone to leave a message, whereas the private area is for members only. All messages can be commented on, leaders will be able to sticky messages to the top of the feed, and perhaps best of all, you can subscribe to messages, so that every time someone comments on it, you will receive a notification, so you can return to follow up.
Rolling out on February 27
We will begin to open up for Platoons on Battlelog on February 27, with some players getting access slightly before others in order to ensure proper feature stability. When it is launched during this week and next, everyone will be able to join a Platoon, but until March 13, Battlefield 4 Premium and a soldier with at least rank 10 will be required to create your own Platoon. The system is also completely platform agnostic, so anyone can join a Platoon no matter where they play Battlefield 4.
It is important for us to clarify that this is the first iteration of Platoons. We will continue to work on the feature to refine and expand it, but now we will finally have the opportunity to see it in action and get some real-world feedback. Now is the time for all our players to tell us what they like, what they want improved, and what they want to see next.
Don't hesitate to tell us what you expect from the upcoming feature, and what can be improved once it's live. We appreciate your questions and feedback!

New Battlefield 4 Shortcut Kits Available
One of the many giveaways during the Battlefield 4 Player Appreciation Month are the Shortcut Kits, voluntary bundles that will unlock various weapons for Battlefield 4 (the base game), allowing you to make up for lost time, or just catch up if you're new to the game. The Shortcut Kits are now available for download at no cost for a limited time.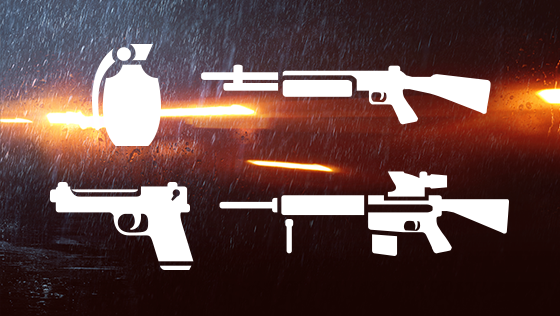 Battlefield 4 Premium members will get access to two special Shortcut Kits, on top of two other Shortcut Kits accessible to all Battlefield 4 owners. See below for the handout schedule.
February 18 to February 24 (EXPIRED)
Shortcut Kit: Hand Guns
Battlefield 4 Premium Shortcut Kit: DMR's
February 25 to March 4
Shortcut Kit: Grenades
Battlefield 4 Premium Shortcut Kit: Shotguns
How to claim your Shortcut Kits
Console Player:
Go to the in-game Store.
Either click on the Shortcut Kit banner or proceed to view "All Items".
Find the Shortcut Kit priced at $0.
Battlefield 4 Premium members will also see a second Shortcut Kit priced at $0.
Download each item to be granted your Shortcut Kit(s).
PC Player:
Go to the Store section on Battlelog
Find the Shortcut Kit priced at $0.
Click "Download".
Proceed through the Origin checkout flow to be granted your Shortcut Kit.
PC Player (Battlefield 4 Premium Member):
Click the "BATTLEFIELD 4 PREMIUM GIVEAWAY" button at the bottom of this news story.
A success message will display in green at the top of Battlelog if successful.
You have now been granted the Shortcut Kit.